As an international company, Myllyn Paras complies with several major international standards that ensure high quality in production and consequently the end product.
 
ISO 22000
ISO 22000 is a standard developed by the International Organization for Standardization dealing with food safety. It is a general derivative of ISO 9000. Food safety is linked to the presence of food-borne hazards in food at the point of consumption. Since food safety hazards can occur at any stage in the food chain, it is essential that adequate control is in place. More information on ISO website.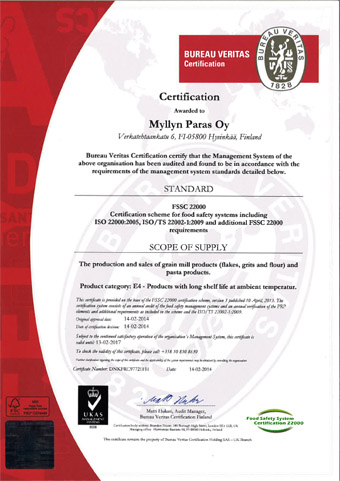 Myllyn Paras ISO 22000 certificate, click image to download the certificate.
FSSC 22000
The FSSC 22000 Food Safety System Certification provides a framework for effectively managing a organization's food safety responsibilities. FSSC 22000 is fully recognized by the Global Food Safety Initiative (GFSI) and is based on existing ISO Standards. It demonstrates that a company has a robust Food Safety Management System in place that meets the requirements of customers and consumers. Already, 10.000+ organizations over 140 countries achieved FSSC 22000 certification. With currently 100+ Licensed Certification Bodies and over 1,500 auditors worldwide, the mission is to ensure consumer trust in the supply of safe food and drinks. More information on FSSC website.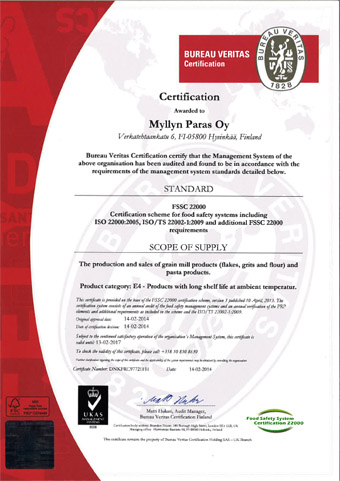 Myllyn Paras FSSC 22000 certificate, click image to download the certificate.